Happy Bhai Dooj
Celebrate the bond of Happiness & Affection with Gift Cards & Gift Vouchers
---
Posted on Oct 29, 2019 14:41 pm
---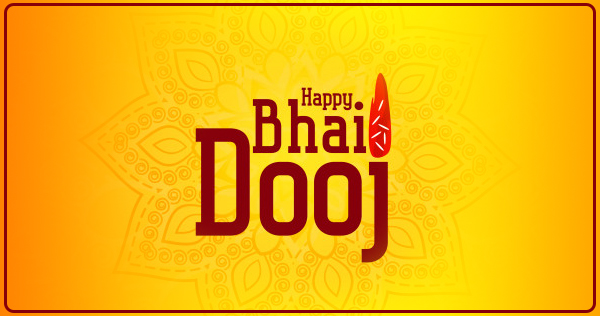 ---
Bhai Dooj – Celebrate the bond of Happiness & Affection with Gift Cards & Gift Vouchers
In India, there are two special festivals that celebrate sibling affection - Raksha Bandhan and Bhaidhooj. Bhaidooj is celebrated on the last day of the five day Diwali festival. The festival marks the blessings of a sister showered upon her brother. For Raksha Bandhan, it is the brother who gifts the sister while on the Bhai dooj day, it is the sister who gives the brother the gifts.
There is also an interesting legend behind the Bhai Dooj celebration. One of the popular stories about the history of Bhai Dooj is that, that after killing the demon Narakasura, Lord Krishna visited his sister Subhadra and she in turn welcomed him affectionately with flowers, sweets and by applying tilak on his forehead. Krishna was very touched with this gesture of Subhadra and he in turn blessed her with many boons.
Although with the modern influence, the festival today is celebrated in a different way but the essence of it still prevails. Today, the greetings are conveyed through emails, e greetings, gift cards, gift vouchers. Sisters who live far away from their brothers send their love through online gifts and gift cards and those who stay close, celebrate this auspicious by visiting their brothers, going for movies etc. The festival is a great chance for siblings to meet, rejoice, celebrate and spread happiness and laughter. It also strengthens the bond between them and also helps rejuvenates it.
Gift cards are a great gift idea for Bhai dooj as these are available as both physical and e gift cards. If you cannot visit your brother or sister for the festival then you can easily mail them. There is no other gift that can offer such ease and comfort. So, in case you forget to buy a gift for your brother or sister who does not have the time, then why not gift them gift cards from different brands that are available on evoucher.
Bhai dooj Gift ideas for your brother
Fasttrack Gift Card: If your brother loves stylish sunglasses, wallets, bags, then a Fasttrack gift card is the perfect gift for him.
Amazon Gift Card: Does your brother love books, electronics or jewellery, then gift him an Amazon gift card.
Book my Trip Gift Card: For the brother who loves to go on trip a Book my Trip gift card would be a perfect gift.
Shoppers Stop Gift Card: The brother who loves to be stylish and smart a gift card from Shoppers Stop or Lifestyle is the best.
Bhai dooj Gift Ideas for your Sister
Gift cards from Tanishq, Kalyan, Joyallukas: Every women is fond of jewellery. So, sisters out there can be offered a special jewellery piece. You can choose gift cards and gift vouchers from the brands like Tanishq, Kalyan, Joyallukas.
Gift cards from Amazon, Flipkart: Give your sister the power to choose her own gifts from the brands she would like to be associated with. Gift Gift cards from Amazon and Flipkart and see her happy.
Gift cards from Shoppers Stop, Pantaloons: For the fashion savvy sister who loves to keep up with the new trends and dress up in style, gift cards from Shoppers Stop and Pantaloons are a perfect gift.
Gift card from Nykaa: Gift your sister a Nykaa gift card and let her choose the best make-up products, natural cosmetics of her choice.
If you are looking for gift cards for Bhai Dhooj, Diwali, Dhanteras or any other occasion you should visit evoucher.com. Find an amazing discount on https://evoucherindia.in on over 250 + brands.
---
Please Login to add Comment
---